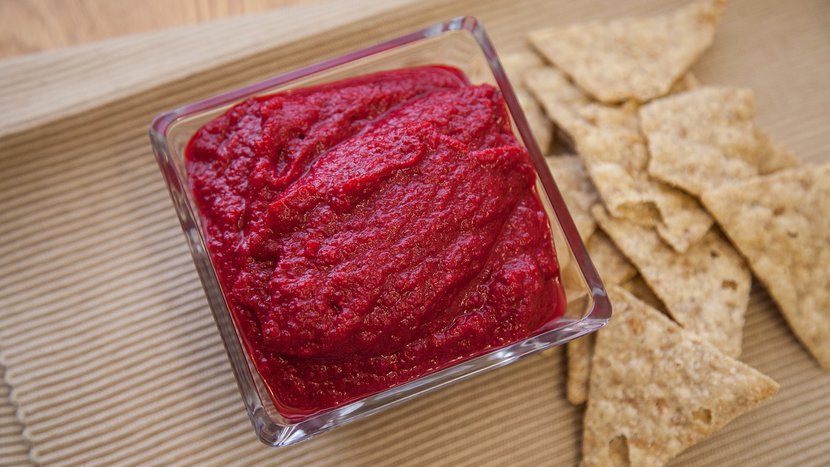 Borscht and juice aren't the only ways to consume your beets. Try one of these beet recipes to kick up your health—and your workouts.
When it comes to getting more out of your body, it might be time to dig deep for Mother Nature's performance enhancer, the beet. This rosy red root vegetable provides a sweet taste that few of its fellow vegetable counterparts possess. The beet also possesses health-hiking and exercise-supporting benefits that can't be beat!
What makes the beet so fitness-friendly? Much of it relates to the beet's nitrate content. Nitrates are substances your body converts into nitric oxide, which then works as a vasodilator to widen blood vessels. This in turn promotes blood flow, which has a favorable effect on both blood pressure and exercise capacity.
To date, many studies demonstrating the efficacy of nitrate consumption have used concentrated beetroot juice, but this highly concentrated concoction usually has a sour, pucker-worthy taste.
Fortunately, eating the sweet beet itself can enhance exercise performance, according to research. A Journal of the Academy of Nutrition and Dietetics study put physically fit people through two 3-mile treadmill time trials: 75 minutes after consuming 200 grams of baked beets, and 75 minutes following the intake of a cranberry-relish placebo.1 The beet trial resulted in increased overall running speed—particularly at the end of the trial—as well as a reduction in the perceived effort of the task at hand.
The beet's health and workout benefits are undeniable. Without skipping a beat, here are three new ways to eat and enjoy beets throughout the day!
1. Roasted Beet Soup
Employing a roasting method to coax out more natural sweetness from the vegetables, this ruby red soup is sure to bowl you over. As with most purée soups, it actually gets better after being refrigerated for a day or two.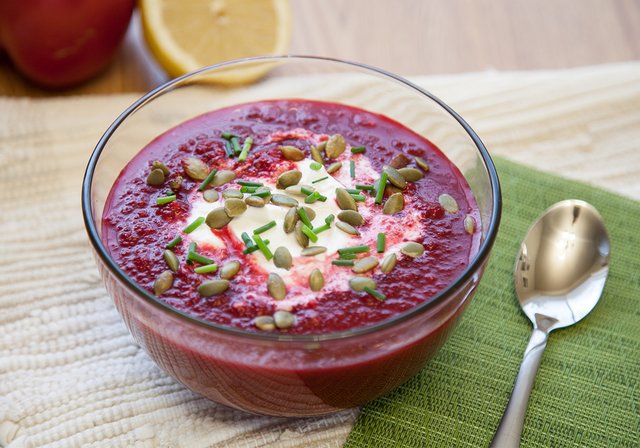 Ingredients
Beets, ends trimmed and chopped, 1 lb. or 5 medium
Yellow onion, sliced into 1/2-inch wedges, 1 large
Red bell peppers, sliced into quarters, 2 large
Garlic cloves, peeled, 4 whole
Canola oil, 2 tsp
Vegetable broth, low sodium, 4 cups
Red apples, sliced into wedges, 2 medium
Lemon juice, 1/2 lemon
Italian seasoning, 2 tsp
Salt, 1/2 tsp
Red chili flakes, 1/4 tsp
Black pepper, 1/4 tsp
Roasted pumpkin seeds, 4 tbsp
Directions
Preheat a rimmed baking sheet in the oven at 400 degrees F. Toss the beets, onion, red pepper, and garlic with canola oil, then spread them out on the hot baking sheet. Roast for 20 minutes. Stir in the apples, and continue roasting until the beets are tender and the vegetables have darkened, about 15 minutes.
Pour vegetable broth into a blender and add the roasted vegetables, lemon juice, Italian seasoning, salt, chili flakes, and black pepper. Blend until it becomes very smooth, adding more liquid if the mixture is too thick. If you have a small blender container, do this in 2 batches. Reheat the mixture if necessary, and serve it garnished with pumpkin seeds.
Note: Other garnish options include crumbled goat or feta cheese, roasted chickpeas, a dollop of Greek yogurt or sour cream, or chopped chives. To push the protein, consider lump crab meat or a high-quality canned tuna.
Click Here For Printable Recipe!
Nutrition Facts
Serving Size: 1/4 of recipe
Recipe yields: 4 Servings
Calories: 261
Fat: 9 g
Carbs: 37 g (8 g fiber)
Protein: 8 g
2. Beet Hummus
This riff on hummus will trigger a sweet and savory tsunami in your mouth. Use it as a dip for your favorite veggies, or slather it as a spread on your favorite whole-grain cracker, pita bread, or sandwich roll. You can also thin some of the beet hummus with olive oil and vinegar to use as a salad dressing.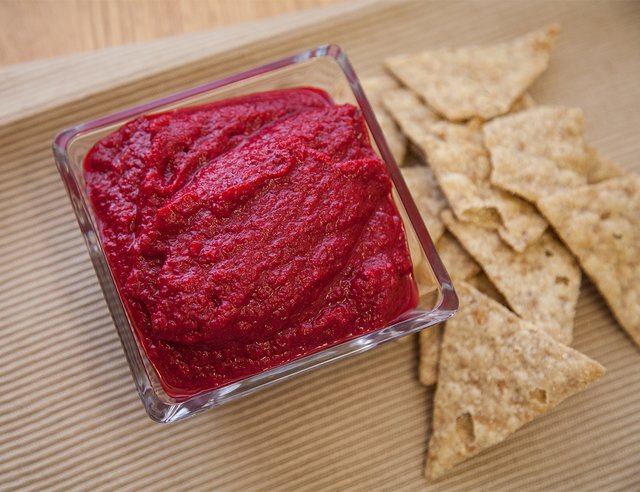 Ingredients
Beets, peeled and chopped, 1/2 lb. or 2 medium
Chickpeas, 14-oz. can
Tahini paste, 2 tbsp
Honey, 2 tsp
Lemon juice, 1/2 lemon
Garlic, minced, 1
Smoked paprika, 1 tsp
Cumin powder, 3/4 tsp
Salt, 1/2 tsp
Directions
Place the beets in a microwave-safe dish, add 1 tablespoon water, cover the dish with a lid or a paper towel, and microwave the beets on high for 4 minutes. Stir, and continue microwaving until the beets are fork tender, about 4-5 minutes more.
Before draining the chickpeas, reserve 2 tablespoons of the canning liquid. Drain and rinse the chickpeas.
Add the cooked beets, chickpeas, reserved canning liquid, and remaining ingredients to a food processor. Purée until smooth.
Click Here For Printable Recipe!
Nutrition Facts
Serving Size: 1/6 of recipe
Recipe yields: 6 Servings
Calories: 128
Fat: 4 g
Carbs: 18 g (4 g fiber)
Protein: 5 g
3. Salmon With Beet Cream
Here's a restaurant-worthy way to jazz up a plate of fish. And, unlike most cream-based sauces, this beety version isn't a calorie bomb. If desired, rainbow trout or arctic char can be used in lieu of salmon.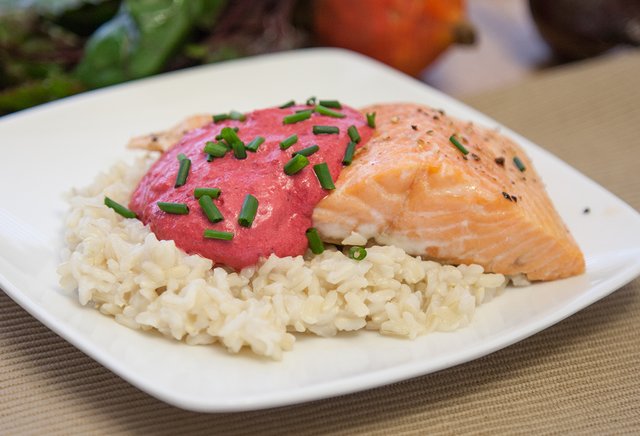 Ingredients
Beets, peeled and chopped, 1 medium or 2 small
Salmon fillets, 24-oz.
Reduced-fat sour cream, 1/2 cup
Olive oil, 2 tbsp
Apple cider vinegar, 1 tbsp
Prepared horseradish, 1 tbsp
Lemon zest, 1 tsp
Salt, 1/4 tsp
Black pepper, 1/4 tsp
Chives, chopped, 2 tbsp
Directions
Preheat your oven to 400 degrees F. Toss the beets with a bit of oil, spread them on a baking sheet, and roast until very tender, about 30 minutes. Remove the beets from the oven.
Place the salmon skin-side down on a baking sheet lined with parchment paper, season it with salt and pepper, and bake until the fish is just cooked through in the middle, about 12 minutes.
Blend the roasted beets, sour cream, olive oil, vinegar, horseradish, lemon zest, salt, and pepper in a blender or food processor until smooth. If needed, blend in water a tablespoon at a time, to help reach a creamy consistency.
Serve the salmon topped with beat cream and chives.
Serving Size: 1/4 of recipe
Recipe yields: 4 Servings
Calories: 383
Fat: 27 g
Carbs: 5 g (1 g fiber)
Protein: 30 g
References
Murphy, M., Eliot, K., Heuertz, R. M., & Weiss, E. (2012). Whole beetroot consumption acutely improves running performance. Journal of the Academy of Nutrition and Dietetics, 112(4), 548-552.